Product Introduction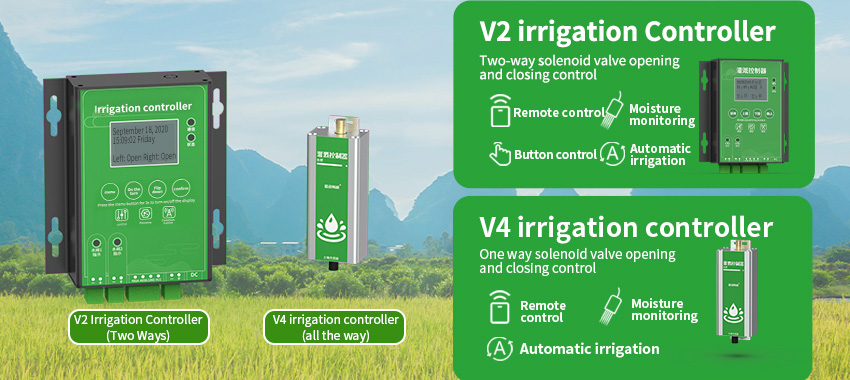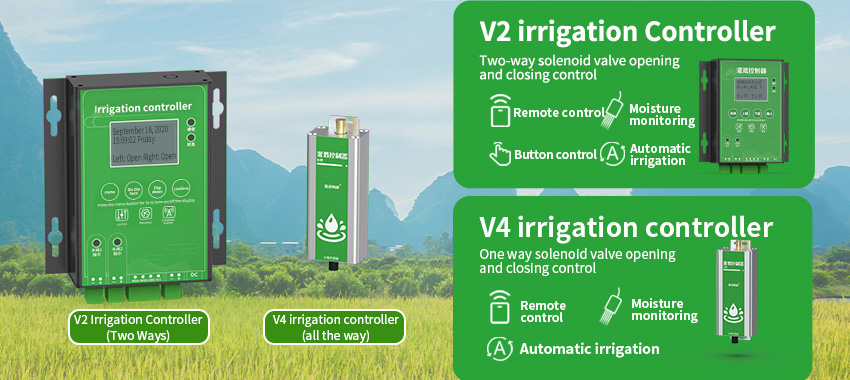 The smart watering system consists of an irrigation controller and a solenoid valve. The mobile phone remotely controls automatic irrigation. It saves labor and time. It is suitable for small-scale irrigation control in parks, courtyards, gardens, greenhouses, gardens, etc., and is easy to install.
Irrigation controller Features:
The smart watering system adopts 4G online irrigation controller to realize automatic irrigation, which can be controlled by buttons or remotely and intelligently by mobile phones.
(1)LCD large screen display
All the operation information on the operation interface can be displayed on one screen of the irrigation controller. The interface is simple and easy to operate.

(2)Key control
The irrigation controller can control the two-way solenoid valves respectively. It is simple and fast to start the irrigation. The operation feedback of the indicator light can check the irrigation status at any time. It is more reliable to use.
(3)Mobile app remote control
1)Immediate control
Through the small program or app issued commands, real-time "group" control or "simultaneously control the solenoid valve" open and close "state.
2)Timing function
Set "group timing" or "unified timing" through applet or app.
The 4G online irrigation controller can open and close the solenoid valve in "a certain year / a certain month / a certain day / a certain hour / a certain second". It can also turn this off, that on, that off. At the same time, the instructions are stored in the local 4G on-line irrigation controller, so that the equipment can also operate on its own off-line.
3)The log is available
The running log can be viewed in the cloud to clearly understand the working content of 4G irrigation controller.
4)High quality ABS waterproof box
Size of waterproof tank: 300 * 200 * 180mm. When used outdoors, it can be used with waterproof box to prevent wet in rainy days.
Irrigation solenoid valve:
The irrigation controller is used with a pilot pulse solenoid valve. The pulse signal is used to control the switch, so the continuous output signal is not needed during irrigation. The electromagnetic valve body is made of reinforced nylon and EPDM diaphragm, which can resist the chemical agents used in agriculture. Built in pressure regulator with adjusting knob in the range of 0.7 ~ 4.5bar.
The smart watering system is suitable for small areas such as park scenic area, villa courtyard, garden grass greening, greenhouse garden, etc. it is easy to operate and can be watered anytime and anywhere.
Parameters
| Parameter name | Parameter content |
| --- | --- |
| Power supply mode | 12V-24V DC |
| Working temperature | -20~60°C |
| Maximum power consumption | 0.4W |
| Working humidity | 15~90% (no condensation) |
| Output signal | 4G |
| Energy consumption | ≤0.15W |
| Response time | <1s |
| Working pressure | 0.9-1.1atm |
How to use soil npk sensors
1. Set a scheduled task
The user opens the power button, first manually on the controller equipment automatically in accordance with the set program for watering, can be connected to two solenoid valves, set two groups of watering procedures. The irrigation controller sends control instructions remotely through the local control of the mobile phone. Set auto travel on your phone or set time correction on your device.
2. Irrigation duration/start watering time can be set
The irrigation controller can set the start time of irrigation on the same day and the duration of irrigation at that time according to the irrigation demand.
When you have all these Settings in place, you can start lazy irrigation.
FAQs
Are the procedures still in place after the blackout?
This irrigation controller is equipped with automatic data storage function. Data will not be lost after power failure, and programs will be saved by the storage function. There is no need to reconfigure work tasks after power failure. Users can be assured to use.
This device does not cost much
We are the pioneer of smart irrigation, focusing on the technology research and development, equipment manufacturing and application promotion of agricultural Internet of things system engineering. We have professional sales managers according to your needs, detailed quotation.