Summary
Whether you're a plant lover, an amateur gardener or you have a yard full of flowers or fruits and vegetables, a pH meter is a valuable, must-have tool for any gardener. Soil pH tester or soil pH Meter can tell you whether your soil is acidic or alkaline, which means you'll know exactly what can and cannot be planted in your yard or indoor garden before.
Most plants do best in soil with a pH of 7, but this isn't true for every plant. Hydrangeas, for example, like a pH of 5 or 6, whereas okra can do well in soil with a pH of up to 7.5. Finding the best pH meter for your outdoor or indoor garden can help you grow healthy, lush plants.
What to Consider When Choosing the Best soil pH Meter
Choosing the best soil pH Meter for your garden depends on a few factors, including where you'll be using your meter (indoor or outdoor) as well as what you need it to measure. Some pH meters measure more than just pH, making them useful, multifunctional tools. Below we've outlined shopping considerations to think about before buying a pH meter.
Accuracy
When it comes to pH levels, accuracy is imperative. Some soil meters have additional features that contribute to their accuracy. For example, a pH meter may use double electrodes to better assess soil pH, or it may suggest leaving the probes in the soil longer for a greater exposure time to get a more accurate reading.
Regardless of the pH meter's features, it's important that it gives consistent and accurate readings.
Calibration
When searching for the best soil pH Meter, don't forget to check its calibration settings, as a well-calibrated pH meter will give you the most accurate reading. As you shop, you may discover that some ph meters require a specific environment to work properly. For example, some pH meters shouldn't be used with hydroponic gardens, while others may not work unless the soil is moist, if not wet.
Before purchasing a product, be sure to check the instructions for properly calibrating the device to ensure it'll work for your plants'environment.
Electrodes
Most pH soil meters come with electrodes, also called probes, to help properly detect the pH of the soil. These handy devices usually come with two probes: one for moisture and one for the pH. However, some pH meters only have a single probe.
If you want a pH meter that can accurately detect soil moisture, consider looking for a product that has dual probes that stick into the soil. If you only want to measure the soil pH, a single probe is enough to get the job done. It all depends on how much information you'd like to get out of your pH meter.
Portability
If you'll be using your pH meter outside, portability is an important consideration, especially if your garden is far from your home. Fortunately, most pH meters are easy to carry around, even if their electrodes make them a bit lengthy or awkward to hold.
Some pH meters are designed to be portable, so if you need to keep a pH meter in your pocket or are interested in something that's compact and easy to store when you're not using it, you may want to consider buying a small pH meter. If you're using your pH meter solely indoors or in a greenhouse, size may not matter as much to you.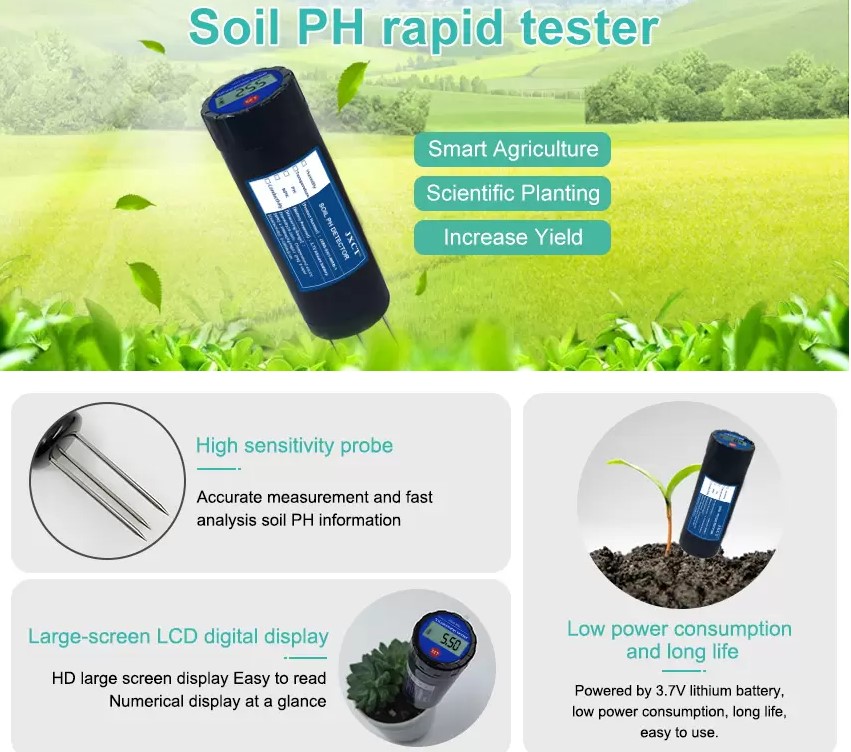 Tips for Buying the Best pH Meter
Finding the best soil pH Meter for your garden will depend on what you're using it for. If you plan on growing plants that thrive in alkaline soil, your meter should be able to read a higher-than-usual pH number, as most only read up to 7. If you'll be using your pH meter on the go, a battery or rechargeable device may work better for you than something that relies on a standard electrical power source.
A pH meter can also measure different elements, not just pH. If you're looking for a meter that exclusively offers a pH measurement, read over the device's details before making a purchase as many pH meters provide additional functions, such as measuring light, moisture, and even humidity.
If you're concerned about your plants getting enough light and moisture, opt for a multifunction pH meter.
Check if the meter is exclusively for indoor or outdoor use or can accommodate both environments to ensure the utmost accuracy.