Product Introduction
This Wireless hygrometer has two power supply modes, a battery power supply, and an external power supply. In order to meet the measurement requirements of customers on different occasions, our products provide you with two choices of built-in probe and external probe, which greatly meets all the needs of users. This temperature humidity sensor has buttons at the bottom, so the user can manually adjust the temperature and humidity monitoring range and has an alarm function.
Model: JXBS-3001-YJTH
MOQ: 1 PCS
Delivery date: within 24 hours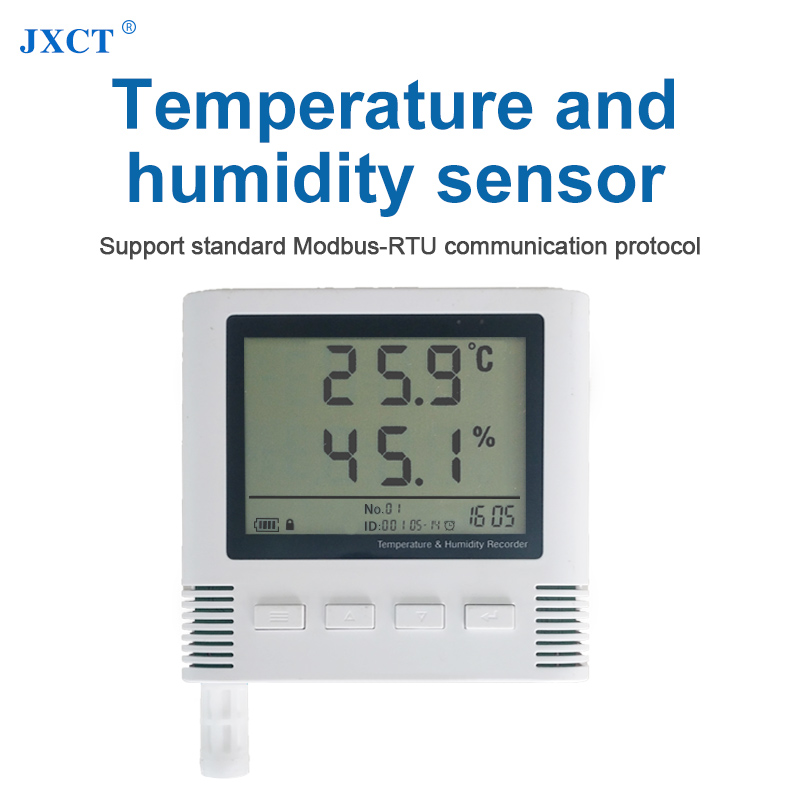 JXBS-6001-YJTH Wireless hygrometer realizes the perfect combination of the industry leader's network technology and traditional sensor technology, and promotes the development of traditional technology market with advanced technology.
The JXBS-6001-YJTH Wireless hygrometer measures the temperature and humidity at the same time and transmits the detected T/H data to the network through an RJ45 port. In the general equipment room, warehouse, and production workshop, one temperature and humidity sensor is usually installed every 20 to 40 square meters.
1. The temperature and humidity monitor adopts a temperature measurement unit imported from Switzerland, which has high measurement accuracy and strong anti-interference ability.
2. JXBS-6001-YJTH Wireless hygrometer has a built-in memory, real-time recording of temperature and humidity data, and a maximum of 65,535 groups can be recorded.
3. The user can set various alarm parameters, communication parameters, time and date, etc. through the LCD buttons. The built-in temperature and humidity alarm function can set the upper and lower limits and return the difference between the temperature and humidity alarm.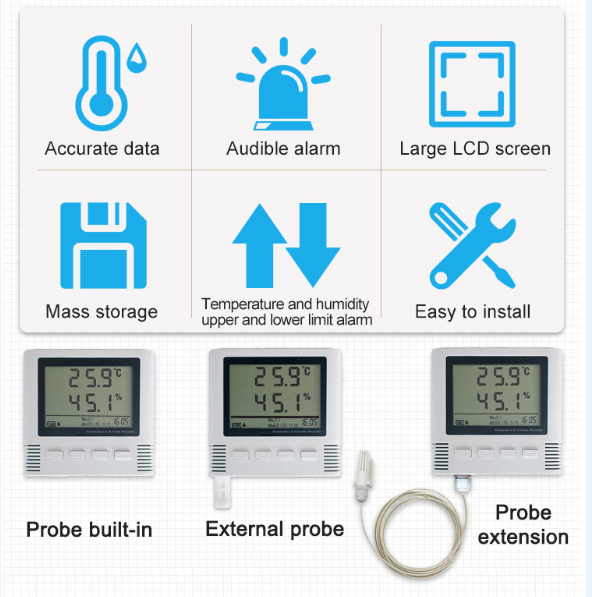 4. The 3.8-inch LCD screen displays real-time temperature, humidity, time and date, stored capacity, device address and baud rate, etc.
5. The user can remotely call and set parameters such as temperature and humidity alarm parameters, time and date, and recording parameters through the monitoring platform.
6. The 485 temperature humidity sensor has 2 switching signal outputs, which can be associated with alarm output. One-way built-in buzzer alarms, one-way extended sound, and light alarm alarms.
7. Multiple recording modes, after the equipment is connected to the monitoring platform, the temperature and humidity recorded data can be automatically spliced in chronological order.
8. 10~30V wide power supply voltage input. The built-in backup battery can last for more than 48 hours. It can work normally even when the power is off.
Wireless hygrometer Parameters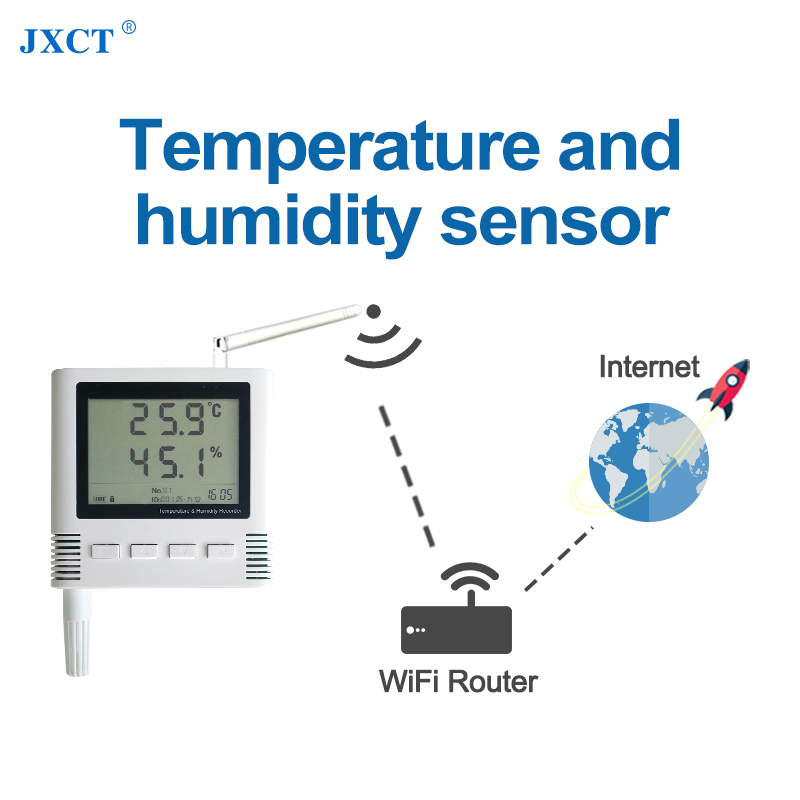 | | | |
| --- | --- | --- |
| Parameter name | Measuring range | Unit |
| DC power supply | 9-24VDC | V DC |
| Maximum power consumption | 0.4 | W |
| Temperature arange | .-40~80(can be customized) | ℃ |
| Humidity range | 5-95% | RH |
| Temperature resolution | 0.1 | ℃ |
| Humidity resolution | 0.1 | RH |
| Transmission interface | RS485 | |
| Probe measurement environment | 0%-100% | RH |
| Corresponding time | 15s | m/s windspeed |
| Temperature and humidity refresh time | <0.5 | |
| Time and date | Built-in always, real-time display | |
| Record points | 160,000 | |
Application
The JXBS-6001-YJTH series of temperature and humidity recorders are widely used in production workshops in cold chain logistics, food and medicine, biological products, special storage, electronic chemicals, health and medical systems, server rooms, and scientific research laboratories. , Laboratories, computer rooms, warehouses, clean rooms, and other environments, 24 hours monitoring of temperature and humidity data.
Sensor video
FAQS
1.What is the housing material of this industrial temperature and humidity sensor?
The shell is made of high-strength ABS plastic material.
2.What can I do if the device cannot be turned on?
To prevent unexpected parameter changes, the device is locked after it is powered on, and the lock icon is locked. If you want to use the configuration menu, you must unlock the device first. First, press the up flip button for 3 seconds and release it. Then press the up flip button for 3 seconds and release it to unlock it. The lock icon is unlocked. In the unlocked state, long press the upturn button on the home screen for 3 seconds to release, and then long press the Upturn button for 3 seconds to change back to the locked state.
3.How to calibrate the sensor?
Our sensors have been calibrated before they leave the factory, and there is no need for customers to perform secondary calibration.
4. Can you provide a platform to view the data?
A: We provide you with a free cloud platform to view data. Our recorder also supports secondary development. You can connect to your own platform to view data.