Product Introduction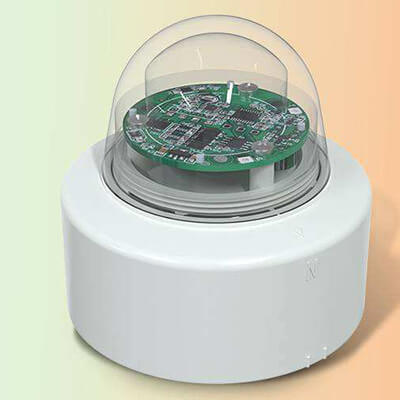 Optical rain sensors measure rainfall using the principle of optical sensing. Using infrared light as the measurement medium, multiple optical probes are built-in. Avoid external light and fog and water to interfere with the detection of the optical rain sensor, making the measurement results more accurate. Compared with traditional mechanical sensors, optical rainfall is small in size and high in sensitivity. It is an intelligent and easy-to-maintain weather monitoring device.
Optical rain gauge advantages
Compared with the tipping bucket rain gauge: the optical rain gauge is small in size, simple to install, and easy to maintain. The optical rain gauge uses electronic optics and a series of microelectronic filtering, amplification, and detection technologies. This principle has the advantage of sensitivity. During installation, because the optical rain gauge is non-mechanical and non-contact measurement, there is no horizontal installation requirement, so the installation is simple and the subsequent maintenance is also convenient. The shell has smooth lines and an easy-to-maintain design, which is not easily blocked by fallen leaves.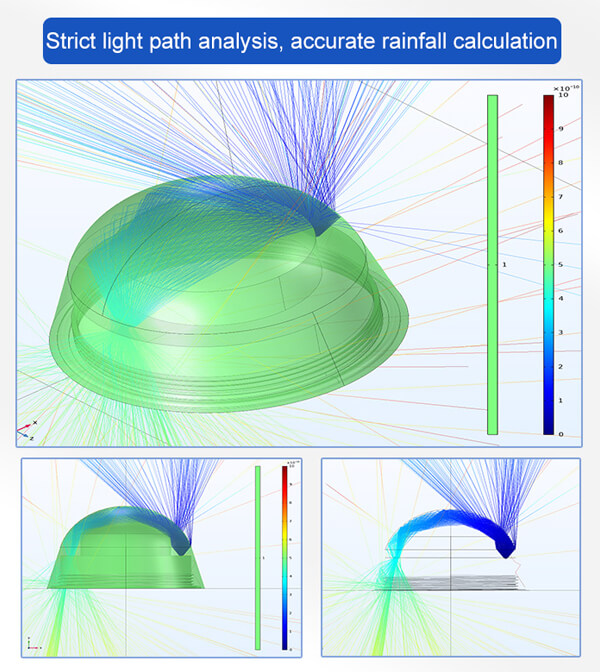 All-solid-state integrated design, beautiful appearance;
The impact measurement principle is used to calculate the weight of a single raindrop, and then calculate the rainfall;
No mechanical parts, no exposed parts, put an end to leaves, dust, bugs;
High measuring accuracy, wide range, good stability, low power consumption, strong ability to resist external interference;
Rain sensor can work all day, not affected by weather changes, accurate to second rainfall monitoring;
The shell of the rain sensor is maintenance-free, the raindrop contact surface is curved design structure, no rainwater storage;
The sensor with automatic horizontal calibration function after installation, no on-site calibration;
The sensor is compact in size, easy to carry, disassemble and install.
Optical rain sensors Parameters
| | |
| --- | --- |
| Parameter name | Parameter value |
| Rainfall intensity range | 0~8mm/min |
| Rate of differentiation | 0.1mm |
| Accuracy of measurement | ±4% |
| Refresh interval | 10s |
| Air temperature | -40~85℃ |
| Measurement accuracy | ±0.3℃ |
| Relative humidity | 0-100% RH |
| Atmospheric pressure | 300~1100hPa |
|  Measurement accuracy | ±0.4hPa |
| Report interval | 1 minute to 24 hours |
| Power supply range | mains use adapter 5~24VDC or built-in lithium battery + |
| Protection level | IP65 |
Scope of application
Optical rain sensor is widely used in meteorological environment monitoring, hydrology and water conservancy comprehensive monitoring station, traffic road monitoring, agriculture, forestry, wind power generation and other relevant departments used to telemetry precipitation, precipitation intensity, precipitation start and end time. Used for flood control, water supply dispatch, hydropower station reservoir water situation management for the purpose of automatic hydrological monitoring and reporting system, automatic field monitoring and reporting station.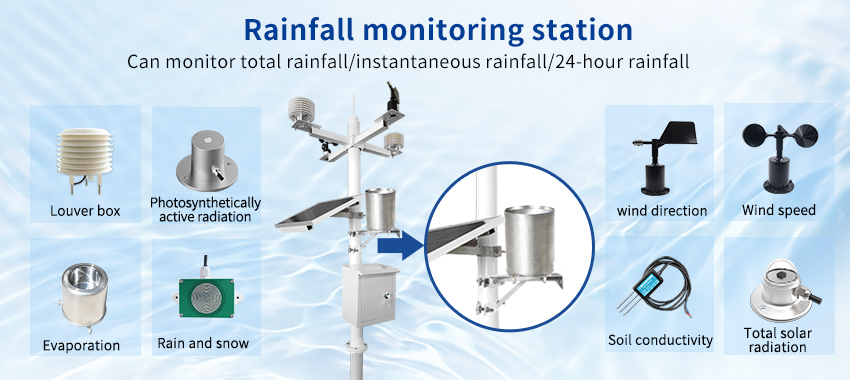 Optical rain gauge maintenance Attention
Before installing the optical rain sensor, it must be ensured that the surface of the cover is dry. Any water droplets will cause measurement errors. You can choose to use some desiccant in it.
If the optical rain gauge is kept outdoors for a long time and the operating environment is harsh, the surface of the optical rain gauge should be kept clean, often wiped with a soft cloth, the rain gauge should be cleaned once a month for long-term work and must be cleaned once every three months.
FAQs
How long is the warranty period of rain sensor?The sensor product is guaranteed for one year.
How to use rain gauge network?
We have professional after sales personnel to the user on the machine software, to help you better use the product.
Attachment