What are the advantages of using soil moisture sensor meter?
1.Detect irrigation issues as early as possible
Find pivot-related faults like clogged nozzles or leaky gaskets days before your best scout.
2.Prevent overwatering & underwatering 
Ensure your crops receive the optimal amount of water. Reduce wet patches and dry areas.
3.Easy to set up & use
Get up and running in minutes. No hardware is required. Receive alerts right on your phone, desktop, or tablet. 
4.Trusted by growers around the world
Get proven insights that help inform better decisions. Works for any crop type under pivot.
How it Works
Irrigation Insights pinpoints soil moisture problems that can commonly occur with pivot irrigation so you can fix them quickly.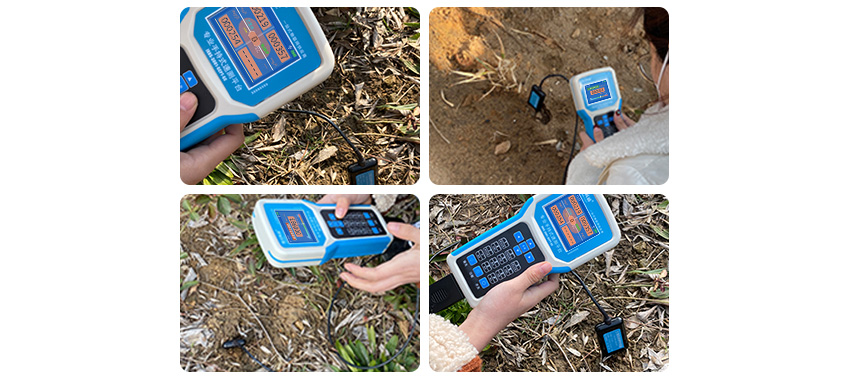 Provide the location of the fields you want to monitor.We work with you to onboard your fields in minutes.
Get alerts sent right to your phone
soil moisture sensor meter sends automatic notifications of likely irrigation problems in the field so you can take action.
Matters needing attention
The steel needle of the sensor is completely inserted into the soil under test. Do not shake the sensor during insertion to avoid affecting the sensor probe;
The flat-inserted sensor can be applied to multi-layer observation and establish soil moisture monitoring station;
When hard material is felt in the soil, please re-select the measured point to prevent damage to the sensor probe;
Do not connect the probe to hard clods to avoid damage to the probe; When measuring, the measured soil density should be as uniform as possible;
Do not pull the cable directly when removing the sensor from soil. After use, clean and dry the probe to keep it clean;
Improper selection of measurement points may result in unexpected measurement errors (> 10%vol).