Soil NPK Meter Features:
Our soil npk meter has an automatic switch-off function. After about 15 seconds without pushing buttons, the meter will be switched off automatically. Used: It adopts customized special stainless steel materials as sensors to realize rapid determination of soil available N、P、K nutrients.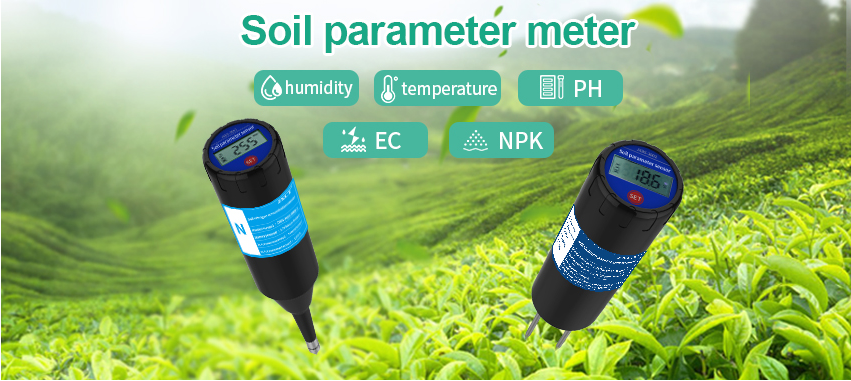 Soil NPK Meter description
The shape of the soil meter is hand-held and easy to carry. The probe uses a four-pin probe design and is made of stainless steel with good corrosion resistance and toughness. The battery of this soil sensor is replaceable. After the power is exhausted, you can replace it by yourself. The operation is simple and the using life is long.
Soil N-P-K Meter Testing
Insert the metal probe slowly and vertically into the soil to a depth of about 4-5 cm. Ensure that the soil is in full contact with the metal probe. After pressing the power button, the tester will display the measured value after about 2 seconds. The compactness of the soil will affect the measurement results. You should perform multiple tests at the same and different points, and use the average value as the final result. After the measurement, clean the surface of the stainless steel probe. Widely used in fields such as farmland production, soil research, greenhouse planting, orchard nursery, horticultural planting, tree planting, pot planting, etc.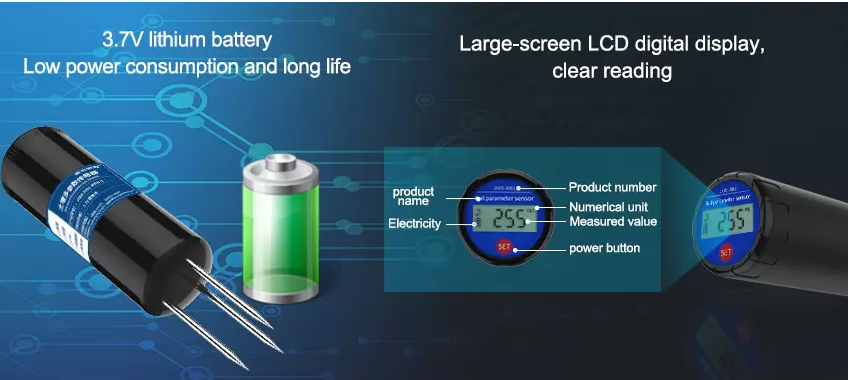 Soil npk tester parameters
Specifications︰soil npk meter
Range: 0 – 1999 mg/Kg (mg/l).
Resolution: 1 mg/Kg (mg/l).
Accuracy: ±2% F.S.
Operating Temperature: ﹣20°~45°
Calibration: One-point ( the factory is calibrated and the user does not need to recalibrate ).
Display: LCD with illumination.
Power supply: Replaceable battery
Reaction time:<1S
Operating temperature: -20℃ ~ 60℃
Protection level: IP68
Size: Ø50.5 X 140 mm(probe section).
Weight: 80g.
How to use soil npk tester?
Soil NPK tester is suitable for many kinds of gardening places and soil testing in all kinds of planting places. Only suitable sensors are prepared for you.
The service life of this soil npk meter is 3-5 years, and the built-in battery can be replaced. Easy to carry and cheap. Welcome to inquiry us.