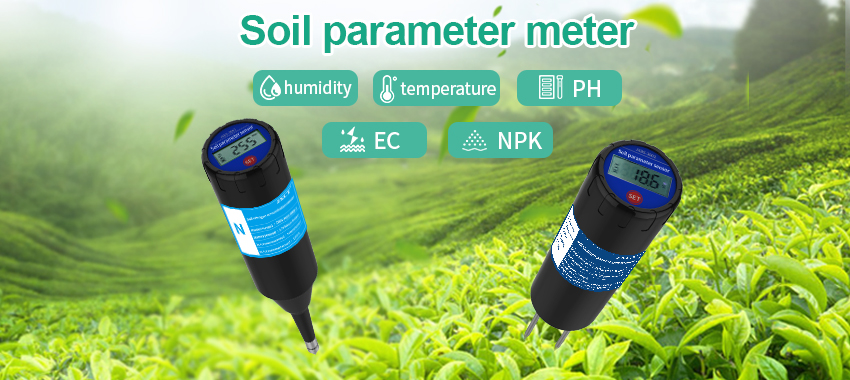 Wireless soil parameter sensor is suitable for soil temperature, humidity, conductivity, PH and nitrogen, phosphorus, potassium measurement. This soil sensor adopts FDR measurement with high accuracy and fast response, and adopts NP-LOT /LoRa communication mode to upload data to the cloud platform in real time.
Model: JXBS-3001-WRB
MOQ: 1 PCS
Delivery date: within 24 hours
JXCT's soil multi-parameter sensor uses advanced FDR measurements. FDR is a new generation of soil measurement technology using frequency domain reflection electromagnetic pulse counting.
1.Good consistency
Multi-parameter monitor soil using non-contact measurement of the electromagnetic poor consistency: capacitor is a way of contact  quantity, enhance the stability, measuring way, as the growth of the use of time, electrode oxidation, reading offset, along with the increase of  accuracy will not over time to bring the influence of the environment and the time of serious, no deviation, prolong the life span. Have reference significance.
2.High precision
The precision of product can reach 3% within 
 on the accuracy of 5%.
3.  low power, low consumotion.
The product is powered by a 3. 7V lithium battery, which has low power consumption, long life andeasy to use.
4. High sensitivity probe
A metal probe inserted into the soil displays the measurements in seconds;
No need for reagent detection, fast response; Accurate measurement, can fully care for a variety of plants.
Parameters
| | | |
| --- | --- | --- |
| Parameter name | Measuring range | Unit |
| Power supply mode | DC 3.7 | V DC |
| Communication methods | Mobile/telecom NB-IOT network | |
| Reporting interval | 60 (customizable) | min |
| Battery life | 4000Mah for more than 3 years | |
| Moisture measuring range | 0-100% | |
| Precision of moisture | 0-53%(±3%)/53-100%(±5%) | |
| Temperature measuring range | -120 | ℃ |
| Accuracy of temperature | ±0.5 | ℃ |
| PH measuring range | 3~9 | PH |
| N,P,K measurement range | 1-1999 | mg/kg(mg/L) |
| N,P,K resolution | 1 | mg/kg(mg/L) |
| N,P,K measurement accuracy | ±2 | %F.S. |
| Conductivity measurement range | 0-10000 | uS/c |
| Response time | <1 | S |
| Protection grade | IP68 | |
| Operating temperature | .-20~60 | ℃ |

Application
Wireless soil multi-parameter sensor is widely used in scientific experiments, water-saving irrigation, greenhouse, flowers and vegetables, grass and pasture soil rapid measurement, plant cultivation, grain storage and various particulate matter water content and temperature measurement.
How to use Wireless soil parameter sensors
1. Quick test method
To measure the position, avoid rocks and ensure that the steel needle does not touch hard objects. Discard the top soil at the required measurement depth, keeping the original tightness of the soil below, and insert the sensor vertically into the soil. Don't rock from side to side. It is recommended to measure the average multiple times in a small area of a measurement point.
2, buried measurement method
Dig a pit with a diameter >20cm vertically, insert the induction needle horizontally into the pit wall to a predetermined depth, and fill the pit tightly. After a period of stabilization, measurements and recordings can be made for days, months, or even longer.
Attachment