Product Introduction
The Analog capacity UV sensor is used for aquaculture meteorological monitoring, airport environmental monitoring, agricultural meteorological monitoring, and atmospheric environment air quality online real-time monitoring. The equipment adopts high sensitivity digital probe, stable signal, high precision. It has the characteristics of wide measuring range, good linearity, good waterproof performance, easy to use, easy to install, long transmission distance, etc. It can monitor meteorological factors all day, continuously and automatically, collect monitoring data quickly and accurately, and transmit it to the software data platform through the network.
* Models:JXBS-3001-UV-I20-1
* Minimum order quantity: 1 piece
* Delivery time: within 24 hours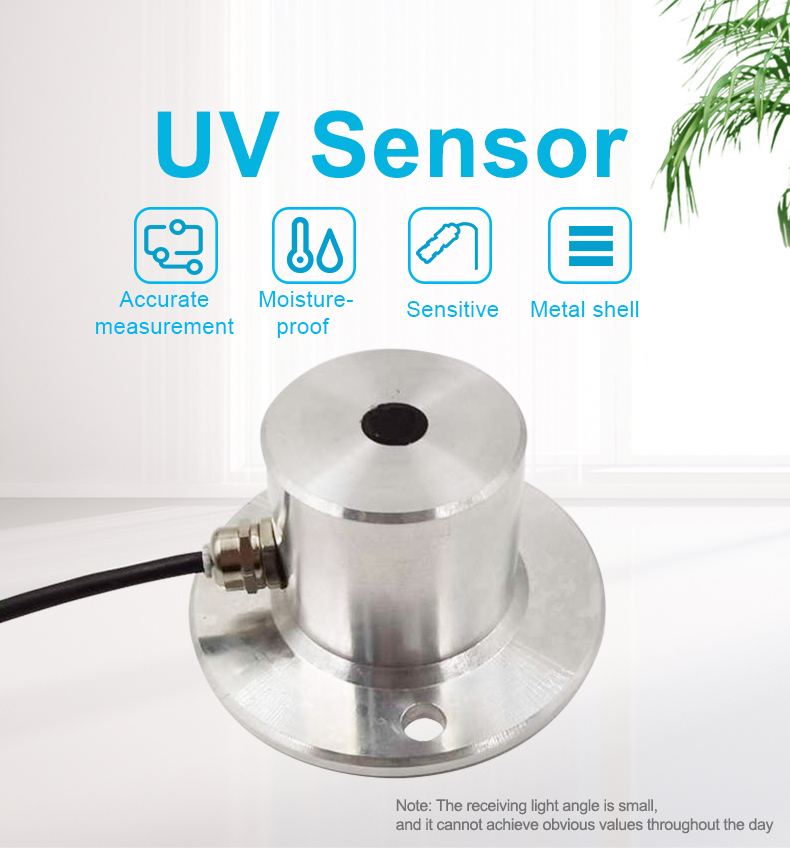 1, the use of 240-370nm high sensitivity UV measuring device, accurate measurement of UV intensity.
2, the perspective window is made of high quality light transmittance material, UV transmittance is greater than 98%, avoid the traditional PMMA and PC materials caused by UV absorption of low UV measurement value.
3, UV detector adopts 485 communication interface, standard Modbus-RTU communication protocol, communication address, baud rate can be set, the longest communication distance of 2000 meters.
4, wall-mounted waterproof shell, high protection level, can be used in outdoor rain and snow environment for a long time.
5. The sensor supports data reporting to the cloud platform for users to view at any time.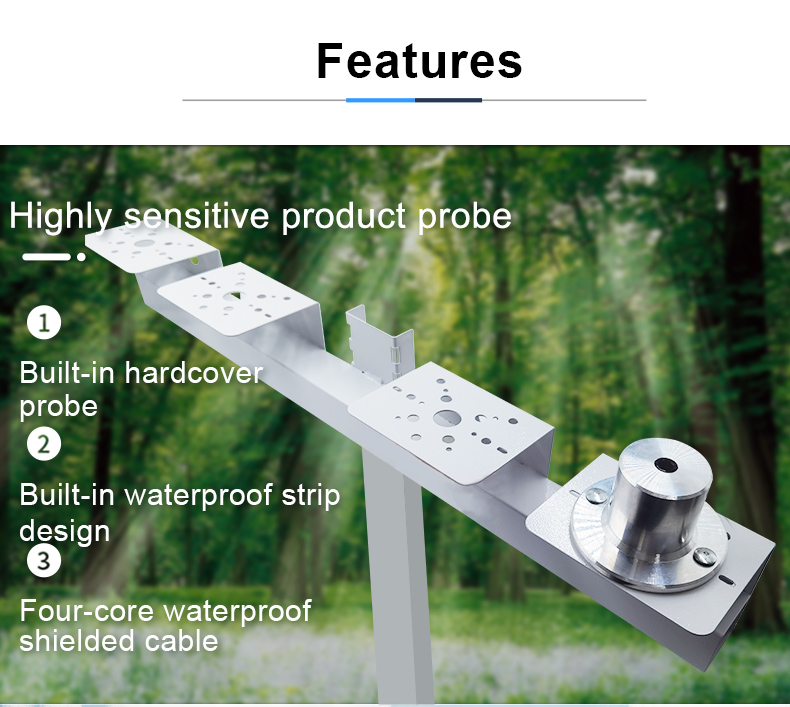 Parameters
| | | |
| --- | --- | --- |
| Parameter name | Measuring range | Unit |
| Dc power supply |  12-24 | VDC |
| Maximum power consumption | 0.4 | W |
| Output signal | RS485|4-20|0-5|0-10 | MA/V |
| Uv accuracy | ±3% (25°C) | |
| Uv measuring range |  0-150 | W/m2 |
| Humidity range | 0-100% | RH |
| Temperature range | .-40~80 | ℃ |
| Working pressure range | 0.9-1.1 | atm |
| Long-term stability of UV degree | ≤5 | %/year |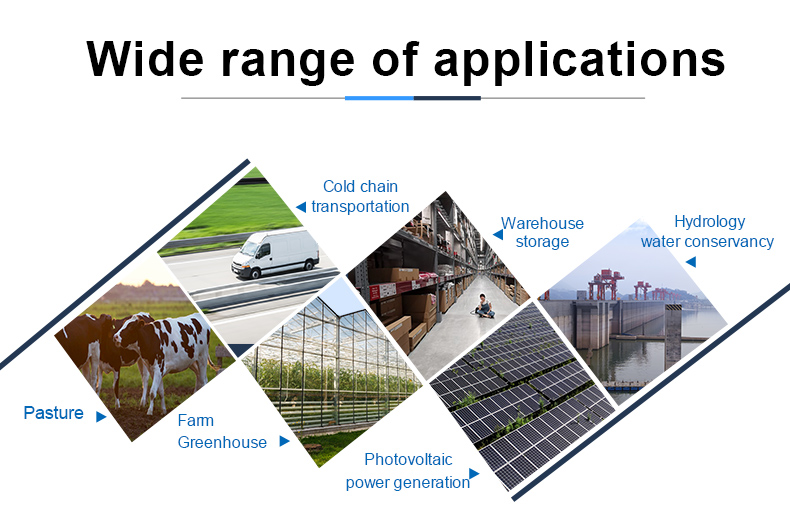 Attention
Installation matters
The UV transmitter is greatly affected by the incident Angle, so the following two installation forms are recommended:
1. Install it horizontally with the ground plane, so that the photosensitive position is facing the sky. It can be used as a fixed position for all-day measurement.
2. If the current real-time ultraviolet intensity needs to be measured, the photosensitive position can be directly to the incident position of sunlight.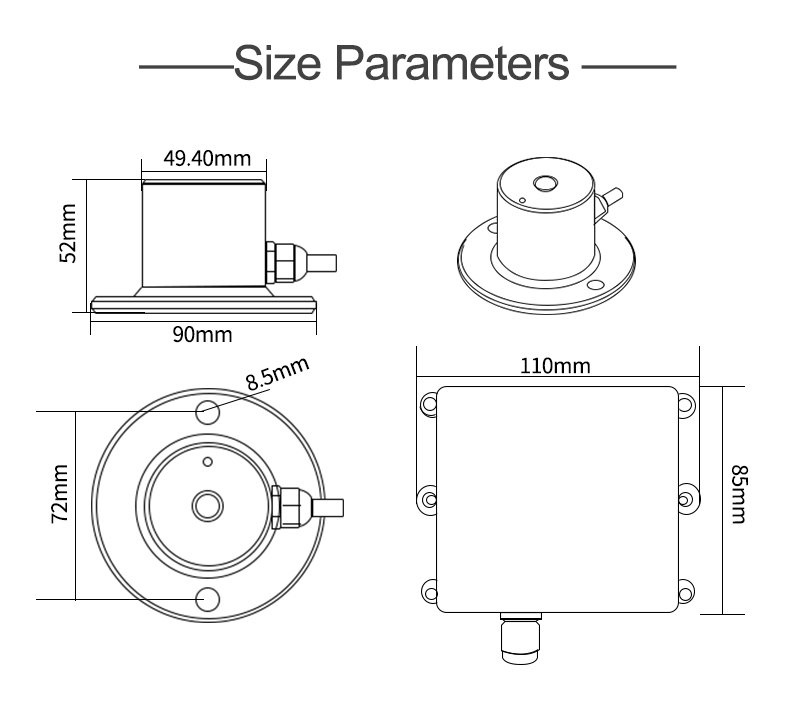 FAQs
1.What is ultraviolet light?
Ultraviolet light is defined as a wavelength in the electromagnetic spectrum between 10nm and 400nm, which is undetectable by the naked eye. Ultraviolet light is divided into UVA, UVB and UVC.
2.How long does this UV sensor last?
When used in a normal environment, our company provides one-year warranty.
3.How to measure UV?
The UV sensor designed and developed by our company can accurately measure the UV conditions in the environment, and display the value in real-time or upload the value to a free cloud platform.
4.Where is the UV sensor used?
Uv sensors can be used in many different applications. For example, it is used for environmental monitoring, meteorological monitoring, agriculture, forestry and other environment. Measure ultraviolet light in the atmosphere and from artificial light sources. In addition, UV sensors are also used in the chemical industry for the production, storage and transportation of chemicals.
Attachment: