Product Introduction
Air pressure sensors adopts imported high precision measuring unit. Built-in high precision temperature compensation, high stability, small drift, high repeatability. It can be easily attached to the wall via a wall-mounted enclosure.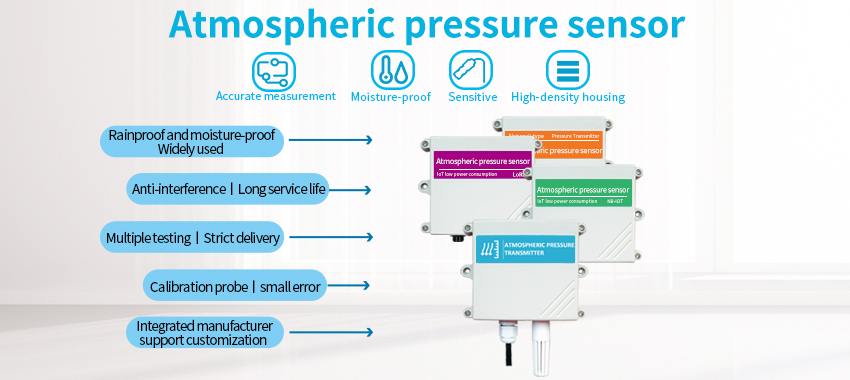 Model: JXBS-3001- QY–RS-1
Minimum order quantity: 1 piece
Delivery time: within 24 hours
Air pressure sensors Features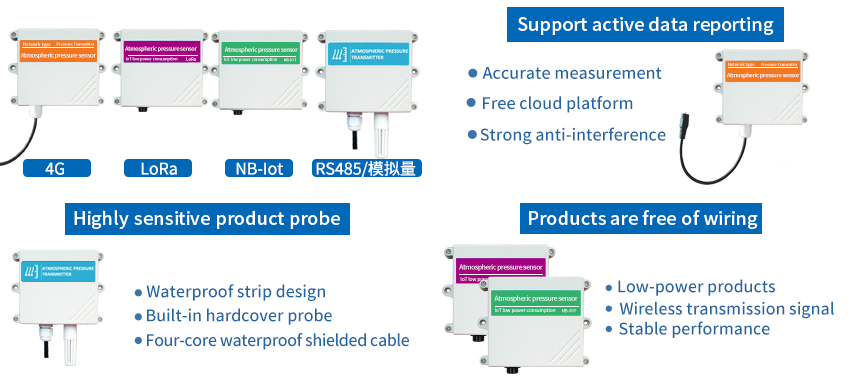 1.10-30V wide DC voltage supply atmospheric pressure sensor
2 atmospheric pressure sensor output can be RS485,4-20ma,0-5V, or 0-10V.
3. Simultaneous measurement of atmospheric pressure and temperature
4. Atmospheric pressure range of 0-120Kpa range, can be applied to all kinds of altitude.
Air pressure sensors Parameters
| | |
| --- | --- |
| Measurement parameter | atmospheric pressure |
| Model Number | JXBS-3001-QY –RS-1 |
| Communication mode | RS485 |
| Power supply | 12-24V power supply |
| Measurement range | 10-1200mbar |
| Material | ABS. |
| Maximum power | <4W |
| Measurement range | 10-1200mbar |
| Accuracy of measurement | 1.5 mbar |
| Working range: | 0-40℃/0-80RH% |
| Power consumption | 0.15 W or less |
Attention
Place the sensor in an environment that is sheltered from wind and rain, and hang it at 90 degrees perpendicular to the floor.
Keep the air hole of the sensor facing directly below to prevent water intake.
Wall-mounted prince shell is wall-mounted, the mounting hole is located in the middle of both sides of the equipment, the mounting aperture is less than 4mm, the hole distance is 105mm, can use 3mm self-tapping screw installation.
FAQs
Air pressure sensor cannot be connected to PLC or computer
Possible causes:
1, the computer has more than one COM port, select the wrong port.
2, air pressure sensor address is not correct, or there is a duplicate device address (all factory default is 1).
3, baud rate, check mode, data bit, stop bit error.
4. The host polling interval and waiting response time are too short. Set them to more than 200ms.
5. The 485 bus is disconnected, or the A and B wires are connected in reverse.
6, if the number of air pressure sensor is too much or the connection is too long, should be the nearest power supply, add 485 intensifier, increase the resistance of 120Ω end.
7. The USB to 485 driver is not installed or damaged.
8. Equipment damage.
Attachment: