Product Introduction
The air pressure sensor adopts a high-precision measuring unit, and the device has built-in high-precision temperature compensation, high stability, low drift, and high repeatability; the wall-mounted housing can be easily fixed on the wall.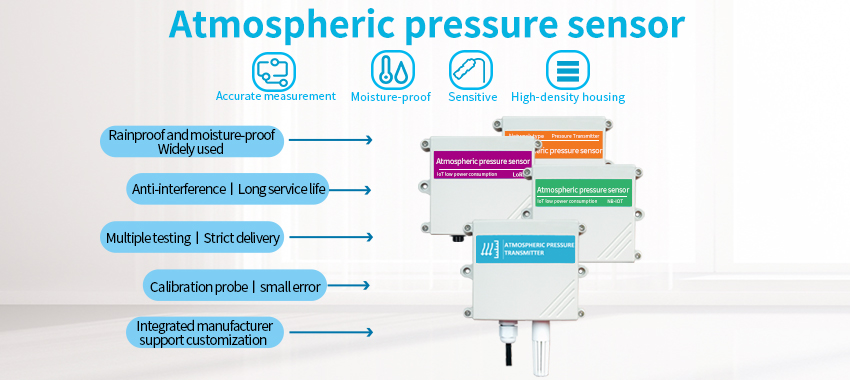 Product Model:    JXBS-3001- QY–RS-1
Quantity of order:    1 piece
Delivery time:    within 24 hours
The atmospheric pressure sensor is suitable for small weather stations, altimeters, agricultural greenhouses, archives and other places where atmospheric pressure monitoring and temperature measurement are required.
Air pressure sensor details
(1)Four-core waterproof shielded cable: waterproof and oil-proof, strong pit interference ability, stable signal transmission.
(2)High-quality probe: built-in high-sensitivity probe, high precision, good linearity, easy to install, long transmission distance.
Air pressure sensor Features
The pressure sensor adopts IP67 high-density material shell, built-in waterproof strip, moisture-proof and dust-proof. Can be used in high temperature, high humidity, dust, rain and snow and other harsh environment. -40℃-80℃ can be customized.
 The sensor communication mode supports signal output such as RS485/4-20mA / 0-5V / 0-10V/NB-IoT/Lora / 4G, meeting environmental requirements. Wireless transmission can be achieved without wiring, the sensor has the advantages of low power consumption and stable performance.
Air pressure sensor products with high sensitivity temperature sensitive element, sensor measurement accuracy is high, strong anti-interference ability.
Air pressure sensors Parameter
| Parameter | Parameter content |
| --- | --- |
| PRODUCT SIZE | 110*85*44mm3 |
| DC POWER SUPPLY | 12VDC |
| RANGE | 0-100,110,120Kpa |
| CORRESPONDING TIME | ≤1ms |
| SERMICE TEMPERATURE | -40℃~80℃ |
| PRESSURE RANGE | 15-115kPa |
| MEASURING MEDIUM | ATMOSPHERE |
| OUTPUT SIGNAL | 4-20mA |
| SUPPLY CURRENT | 15mAmaximum (standard 8mA) |
| ONTIME | 15 MIL LISECONDS |
Air pressure sensors are widely used in wind resource assessment, environmental monitoring and meteorological research.In the environment of measuring air pressure, such as farmland measurement and industrial detection.
Attachment