Product Introduction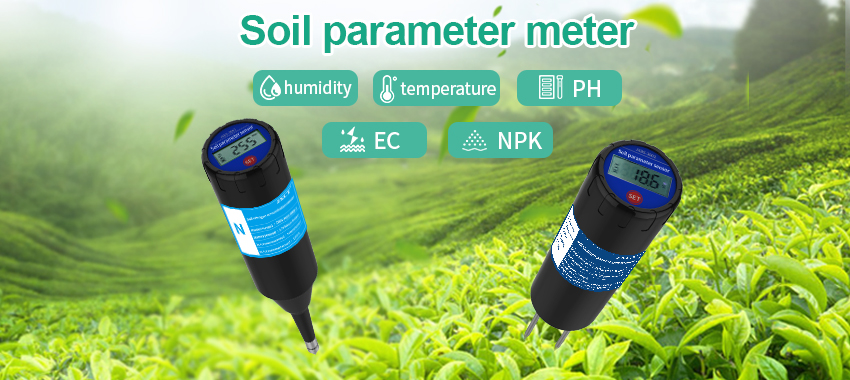 7-in-1 soil detector(soil sensor) has high precision. Soil sensor can monitor soil temperature and humidity,pH value, nitrogen,phosphorus, potassium and electrical conductivity. It is simple and convenient, with low cost and fast measurement speed.
7-in-1 soil detector Features
(1)accurate measurement
When the metal probe is inserted into the soil, the measurement results can be displayed in a few seconds, and the measurement is accurate.
(2)3. 7V low lithium battery, low power, low consumotion.
The product is powered by a 3. 7V lithium battery, which has low power consumption, long life andeasy to use.
(3)Large screen LCD digital display
Clear reading, high definition large screen display, easy to read, digital display at a glance.
(4)Plug and play
The measurement product can be inserted into the soil, which is simple and convenient, low cost and fast.
7-in-1 soil detector Monitoring parameters
| | | |
| --- | --- | --- |
| arameter name | Measuring range | Unit |
| Power supply mode | DC 3.7 | V DC |
| Communication methods | Mobile/telecom NB-IOT network | |
| Reporting interval | 60 (customizable) | min |
| Battery life | 4000Mah for more than 3 years | |
| Moisture measuring range | 0-100% | |
| Precision of moisture | 0-53%(±3%)/53-100%(±5%) | |
| Temperature measuring range | -120 | ℃ |
| Accuracy of temperature | ±0.5 | ℃ |
| PH measuring range | 3~9 | PH |
| N,P,K measurement range | 1-1999 | mg/kg(mg/L) |
| N,P,K resolution | 1 | mg/kg(mg/L) |
| N,P,K measurement accuracy | ±2 | %F.S. |
| Conductivity measurement range | 0-10000 | uS/c |
| Response time | <1 | S |
| Protection grade | IP68 | |
| Operating temperature | .-20~60 | ℃ |
(1)Soil temperature detection:Easy to understand.Soil temperature determines the living environment of the plant to create a standard greenhouse for your soil.
(2)Soil pH test:Accurate control,Soil pH affects plant growth and protects your soil acid-base balance.
(3)Soil NPK detection:Test at any time,Soil NPK is an important nutrient element for plant growth and promotes plant growth.
(4)Soil conductivity test:Rational planting,Soil conductivity reflects soil salinity and affects soil nutrient conversion and effectiveness.
Soil sensor is suitable for farmland production, soil research, greenhouse planting, orchard nursery, all kinds of horticultural soil testing, support parameter free customization, multi in one soil sensor customization.
How to use 7-in-1 soil detector
1. Quick test method
To measure the position, avoid rocks and ensure that the steel needle does not touch hard objects. Discard the top soil at the required measurement depth, keeping the original tightness of the soil below, and insert the sensor vertically into the soil. Don't rock from side to side. It is recommended to measure the average multiple times in a small area of a measurement point.
2, buried measurement method
Dig a pit with a diameter >20cm vertically, insert the induction needle horizontally into the pit wall to a predetermined depth, and fill the pit tightly. After a period of stabilization, measurements and recordings can be made for days, months, or even longer.
Attachment
7-in-1 soil detector Introduction-Manual